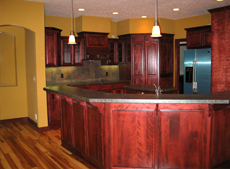 Client Benefits
Industry Partners
Bratetic Construction Inc. is aligned with the best industry partners to provide quality products and unbeatable value to our clients. We are continuosly meeting with our industry partners and maintaining a open line of communication to make sure we are informed of the latest product offerings and best options available.
Expert Subcontractors
One important reason a project all comes together is the trusting relationships developed between Bratetic Construction, Inc. and the various subcontractors on the job. We make it a point to keep all subcontractors highly informed of the project happenings to make for a flawless execution.
Valued Advice
Bratetic Construction, Inc. strives for excellence in communication by keeping clients informed throughout the building process and listening to their specific needs. Feel confident that in choosing Bratetic Construction, Inc., we will take the time to explain all of the details, providing a clear and understandable framework before and during the various stages of the project.
Designer Spotlight
Check out this Walk-In Shower that takes luxury to the next level with 10 Shower Heads, granite and natural stone tile. Just another example that Bratetic Construction, Inc. means QUALITY.